Register today for this exclusive event as you won't want to miss out on our interactive sessions with Paul Lewis, Pythian CTO!
| | |
| --- | --- |
| 10:30 AM | Registration Opens |
| 11:00 AM | Lunch Begins |
| 11:30 AM | Programming Begins |
| 12:00 PM | Livestream Google Cloud Next on the Road Keynote |
| 1:00 PM | Breakouts |
| 4:30 - 6:00 PM | Networking & Social |
---
This is an exclusive, non-transferable invite for you only. Registration is required using your corporate email address.
For questions or to add extra team members, please contact Tanya Kaye at tkaye@pythian.com.
Join Pythian for Google Next on the Road
Go deeper with all things Google Cloud during our interactive sessions
The Data Points: Key Take-aways from Google Cloud Next Keynote, featuring Google C2C President Josh Berman

Google Cloud Next's keynote session always signals what is on the horizon for organizations on their cloud journey. But what you heard matters the most: what was most relevant? Are there shifting trends or areas of exploration for your organization? What didn't resonate? Join this highly interactive session, led by Pythian's CTO Paul Lewis, to sort out the most relevant implications for your organization.

View from the Top: Biggest Wins and Lessons Learned spotlighting Thoughtworks and more!

No journey is identical to another, but every single one presents opportunities to celebrate and learn. This panel session brings together Pythian customers to discuss their real-world experiences from their most successful initiatives that delivered measurable value to the organization to the challenges they encountered along the way. This session is moderated by Pythian CTO Paul Lewis and is highly interactive and encourages Q&A from all guests.
Love Your Data. Love What's Next with Pythian.
---
Our specializations
Pythian is a leading Google Cloud Premier Partner and Specialization Partner.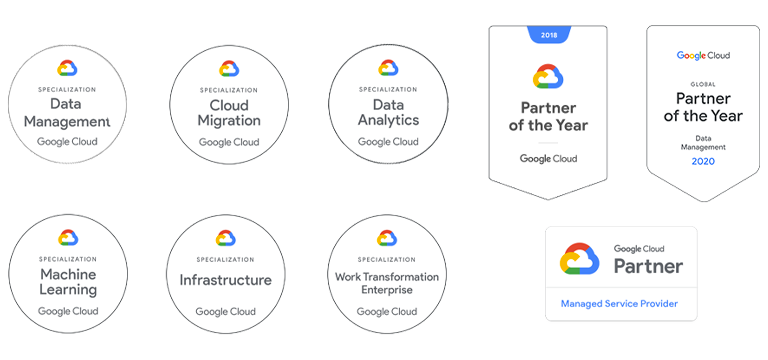 At Pythian, we're not just an award-winning Google Cloud premier partner, MSP and leading data, analytics and cloud provider. We're also a customer-driven organization, focused on helping our customers connect with their data to make actionable insights that can help shape and transform their business.
With over 25 years of experience, we've got the capabilities of a global systems integrator but the flexibility of a boutique consultancy, which puts us in a unique position in the Google ecosystem.
Learn more about how Pythian can help you on your Google journey!